Increase lead conversion using SMS
According to industry statistics, SMS open and response rates are as high as 98% and 45%, respectively. 90% of SMS messages are read within the first 3 seconds.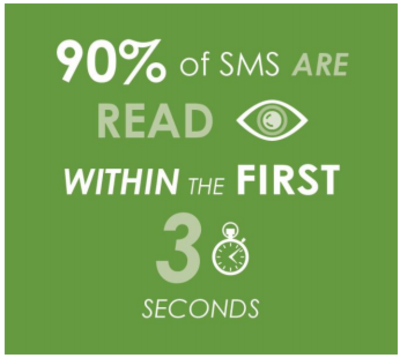 TextIn by Colligso helps businesses to engage directly with customers using text messaging (SMS). Our customers regularly use TextIn for the following purposes.
To send promotional messages to all customers on periodic basis.
To bring back customers who have not ordered lately using promotion or reminder.
To bring back customers who have not ordered lately using promotions based on their spend.
To keep customers informed about business hours, change in address, new product or services, etc.
To provide quick access to important information, such as upcoming pricing change for the season.
Increasing lead conversion using mobile number
Since text (SMS) messaging offers high open rate and immediacy, you can use it to your advantage to increase lead conversion, provided you have taken adequate steps to get permission from the leads. Here is how you can do this easily.
Connect your lead generation app to TextIn. Capture mobile number in your lead ad or lead form. Rely on TextIn to get a written opt-in from the lead from her/his mobile device. Reach out to the leads using text message marketing or on 1-1 basis using TextIn.
Connection between your lead generation app and TextIn could be set up in minutes without any coding. We have made it easy for you to connect TextIn to hundreds of apps by making it available for integration on popular iPaaS (integration platform as a service) platforms like Zapier. Such a connection can automate tasks of confirming the leads quickly as well as getting the required opt-ins as soon as possible.
Here are a some example connections.
To use SMS for customer engagement, you need to obtain an opt-in in writing from each customer/ lead from their mobile device. TextIn makes opt-in (and opt-out) easy and quick. You can reach all the leads who have opted-in in one shot using Text Campaigns or you can trigger 1-1 conversations with them, both methods are supported in TextIn.
Take advantage of SMS's high open rates and immediacy to increase lead conversions. Easily and quickly build connections between TextIn and your favorite lead generation app and start converting leads into customers!
then connect with Colligso TextIn on Integromat or Zapier.