Are you in their (mobile) wallets?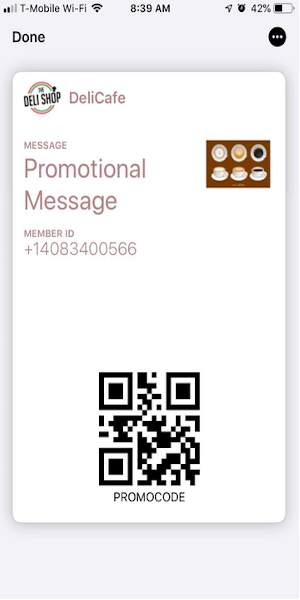 Grow your business by engaging with customers directly using personalized passes in customer's Apple Pay or Google Pay wallet. Use Colligso WalletIn.
Secure a coveted presence in modern consumer's digital wallet with a branded pass.
Run unlimited campaigns to engage with customers using passes on their smartphones. Drive traffic to your business.
Standout from competitors using geo-fence targeting.
Supports multiple identification/ redemption methods and code types.
Cost-effective. No plastic. Environment-friendly solution.
Wondering how would your customers download your branded passes in their wallets? We have made it easy. There are a couple of ways.
1. Automatically send email as you acquire customer
WalletIn is available on two popular integration platforms Integromat and Zapier. Via these platforms, you can integrate WalletIn with popular apps for accounting, CRM, eCommerce, email marketing, forms, payment processing, point of sale, spreadsheet, etc. Follow these simple steps. No coding required.
Select the app that you are using to capture the customer data.
Select a trigger from that app such as New Customer, New Submission or New Subscriber.
Add WalletIn to the integration and select Send Pass as an action.
Map customer related properties including email address from the trigger event of your app to WalletIn's action.
That's it! Now, as customer data is entered in your selected app, WalletIn sends instructions via email to that customer to download a personalized pass with your brand.
Here are some examples:
Capture customer/ prospect data using a form and send pass. Examples: Google Form, JotForm, Typeform, Unbounce
Add email subscriber and send pass. Examples: Mailchimp
Add customer on your eShop and send pass. Examples: BigCommerce, Shopify,Volusion, WooCommerce
2. Notify via email
WalletIn provides a pre-built email campaign to send email to customers with a simple instruction to download their personalized passes for your brand. Just change its schedule and activate. Check out our article on helpdesk to import customer data.
Sign up
WalletIn can send pass to every Android or iOS device where Google Pay or Apple Pay are available. It is cost-effective and environment-friendly.
or click https://www.colligso.com/walletin.html.
Check this out